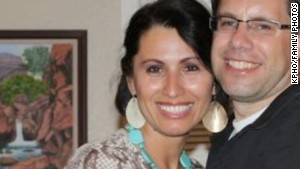 UPDATE:
The Arizona mother of triplets who was held in a Mexican jail on trumped up drug charges in now a free woman. A Mexican court released Yanira Maldonado Thursday night after cops had accused her of trying to smuggle 12 lbs. of marijuana into the country under a bus seat. But the Mormon mum of seven denied the charges as she was held in a harsh Mexican jail. The court determined there was not enough evidence.
Video showing Maldonado and her husband Gary revealed there was no way she could have
smuggled that much weed without being noticed.
Her lawyer Benitez said: "That was the key that would help us prove her innocence. It showed right on the film clear as day there's no way you could carry 12 pounds or 5.7 kilos with one arm."
For more, see
CNN