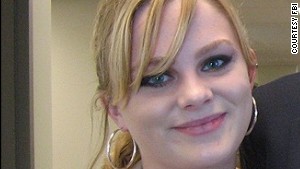 CHARLOTTESVILLE, VIRGINA -- Jesse Matthew Jr. is looking more and more like a potential serial killer. The man charged with kidnapping missing University of Virginia student Hannah Graham -- who disappeared Sept. 13 -- is being eyed in a number of other unsolved homicides. Already, cops have linked Matthew to the 2009 slaying of co-ed Morgan Harrington, 20, who vanished after a Metallica concert and was later found dead.
Now, the Washington Post is reporting that he was also accused of two counts of sexual assault at other Virginia universities while he was a student. The first was at Liberty University in Lynchburg, and then at Christopher Newport University in Newport News. Both reports were investigated by police, but Matthew was never charged.
In addition, cops say they are scouring other unsolved homicide and missing person files in Virginia: * Campbell County: Cassandra Morton, whose body was found in a wooded area near Lynchburg in November 2009.
* Orange County: Samantha Ann Clarke, who was last seen September 13, 2010.
* Montgomery County: Heidi Childs and David Metzler, whose 2009 shooting deaths remain unsolved.
MORE FROM FOX NEWS